In the Harmonic Egg we use frequency (music), vibrations, sound and light waves that spiral (360 degrees) around the person relaxed in zero-gravity chair.
The sacred geometric resonant chamber allows the person to reach the delta-theta brain waves to come into a state of deep relaxation, and assist the bodies natural healing abilities.
Nikola Tesla's theories were studied when creating the Egg and we used 3, 6 and 9s in the structure. He stated, "If you only knew the magnificence of the 3, 6 and 9, then you would have a key to the universe." There is something powerful to that statement. The Golden Mean Ratio, sacred geometry and ancient Egyptian and Greek philosophies were also considered and implemented in the design and protocol for sessions.
The person goes to a level below the level of consciousness in an immersive experience of mostly instrumental sounds and carefully selected light colors.
During your sessions at Life Center, you can simply relax and even fall asleep as it will not effect your results. It is a non-invasive modality to quickly and safely rebalance your body on a cellular level so whether you're asleep or awake, it's working!
It's the most unique immersive experience to help heal the body naturally with sound and light.  See our testimonials page for all the success stories we have from clients.
The #1 source of illness and disease in the body is physiological stress.  Psychological stress refers to the emotional and physiological reactions experienced when an individual confronts a situation in which the demands go beyond their coping resources. Examples of stressful situations are marital problems, death of a loved one, abuse, health problems, and financial crises.
Harmonic Egg has been found to eliminate this kind of stress in the body in a way that is unprecedented!!!!  You need to try it for yourself in order to understand how relaxing and healing the experience can be for you.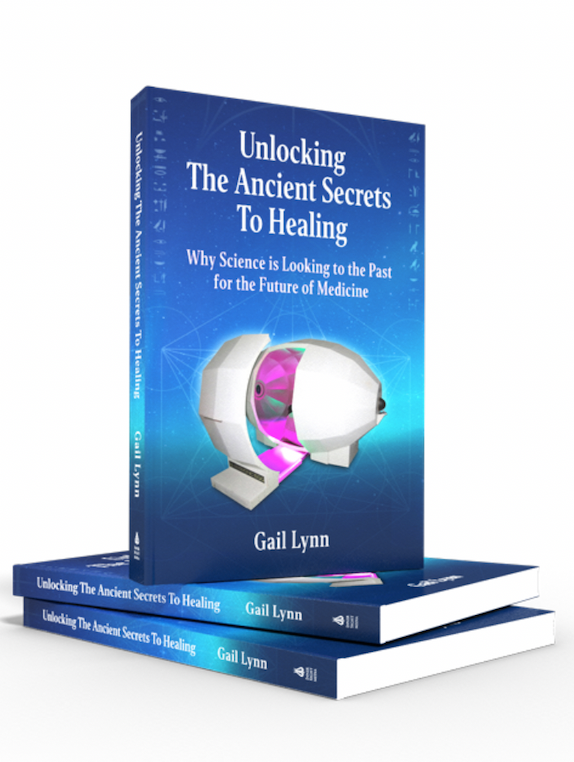 Unlocking the Ancient Secrets to Healing: Why Science is Looking to the Past for the Future of Medicine.
By: Gail Lynn
A fascinating account of an extraordinary journey through ancient history, modern science, and the birthing of a revolutionary new sound and light therapy that is helping thousands overcome their health concerns.

Subscribe to our newsletter for specials and news!
Hundreds of testimonials from clients using Harmonic Egg for PTSD, Fibromyalgia, Lyme, Mystery Illnesses, Autoimmune, Chronic Pain, STRESS, Parkinson's, MS, Seizures, Chronic Fatigue, ADHD, Heavy Metals, Viral loads, Epstein-Barr, Digestive Issues, Headaches / Migraines, Asthma and MORE...
What you will experience is a paradigm shift in healing.  No pills, no drugs, no needles, no surgeries…everything is energy and we work on an energy level to help the body heal itself naturally. Energy healing is the most natural form of healing.  It's all about balance.  As energy begins to flow it can reverse any conditions of imbalance in a perfect rhythm.  It never goes against your will, or is forced.  The flow of energy works as you are in agreement to receive it, whether it is at a conscious or unconscious level.  Some of the benefits are to the right.
Click here to see some symptoms / side effects.
Elevated Levels of ENERGY
Acceleration in spiritual evolution
Strengthening of VITAL ORGANS